Education
BS - Printing Science and Management
Rochester Institute of Technology
Rochester, NY
1980
There has never been a greater demand for graphic communications professionals who can do it all-from managing printing equipment and technology to designing cross media projects from web sites to e-books. Because the pace of innovation in the industry is so rapid, the years ahead promise virtually unlimited opportunities for people with in-depth knowledge of both printing and new media.
A BS degree in Printing Technology provides an opportunity for students with a strong background in graphic communications to pursue the science and technology of the field in greater depth. Typically, students have are focused on Printing, Graphic Communication, Imaging Science, Computer Science, Engineering, and technical issues and careers.
Associate degree - Printing
Pennsylvania College of Technology
(formally Williamsport Area Community College)
Williamsport, PA
1978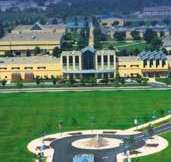 The Printing and Publishing Technology major supports the human resource development needs of the printing and publishing industry. This program offers students an opportunity to develop skills and knowledge that will prepare them for entry-level management positions specific to printing and publishing. Students will develop planning and organizational skills, as well as decision-making capabilities. Students will also refine technical abilities through the application of tools, materials and processes used in various printing systems. They will have opportunities to work with digital media, such as CD-ROM publishing and Internet site development. Laboratory experiences will reinforce communications, math, science and technical concepts, while challenging students' problem-solving abilities.
HS Diploma
Butler Senior High School
Butler, PA
1976
Butler Seinor High School offers an aggressive 2 year Printing Technology program which focused me into a career in the Graphic Arts. With a graduating class of 1,012 in 1976, it is one of the largest High Schools in Butler county.