Production Management
From 1984 thru 1987, I held two separate production supervision positions within NEBS manufacturing. Each position required the management of over 30 employees, scheduling of work, setting and obtaining department budget and production objectives, future planning and performance reviews. During this time, each department that I was involved with was undergoing radical change in production systems or technology improvements.
NEBS is a leading supplier of very short run imprinted business forms and other printed products. Production departments must produce an extremely high volume of work on a daily basis while provide the customer with high quality imprinted forms. At this time NEBS had 4 manufacturing facilities across the USA which could produce over 35,000 orders per week combined.
The pre-press department in Maryville Missouri was undergoing the evolution from a paper order system to transmission of all order information via phone lines from over 1600 miles away. With an Autologic APS 5u high speed typesetter and other proprietary system, we were able to successfully process well over 10,00 individual orders each week with only 10 people on two shifts. As every order in this plant went through this one department, anticipating and solving problems quickly became vital. You could make or break a plants productivity with each decision made in the pre-press department.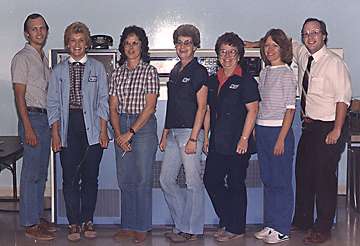 Pre-press accomplishments include:
Implementation of new system, improving department efficiencies by 64 %.
Improved department on time delivery by 31%
Enabled over $600,000 in weekly sales.
Two separate press department production lines were managed in this time period; one in Peterborough, NH and one in Maryville MO. Each press production line contained from 14 - 18 presses including one and two color Offset Litho presses and many rotary Letterpress units. Both lines also had their own bindery equipment including polar cutters and perfect binding equipment along with a small packing station.
While each production line was autonomous, all of the lines needed to work together in sharing resources and taking on work for the plant to meet its goals. Much teamwork was required between departments and between Supervisors on an hourly basis. In my final year, Warehouse responsibilities were added to my tasks. Although it was a very small group, it too was vital in keeping the operations of the entire manufacturing plant effective. Press/Warehouse accomplishments include:
Implemented self-directed work groups in warehouse, increasing traffic by 24% with no capital or budget increase.
Increased department quality rating to 98%