"Crash Test Barbie" will attempt to defy gravity by Bungie Jumping" from great heights without smashing into the ground. "Crash Test Barbie" claims to have worked out the complicated mathematics and assures anyone who will listen that this venture is much safer than her previous attempts at the higher sciences.
Seen here are "Crash Test Barbie's" original calculations that predict a successful jump by using high quality rubber bands. "I even used a pen instead of a pencil!" claimed "Crash Test Barbie" in a recent interview. "I'm sure this will work"
Some close friends of "Crash Test Barbie" have been rumored to tell the press community that she had help from some socially awkward computer geeks in calculating the number of rubber bands needed to make a safe and successful Bungie Jump.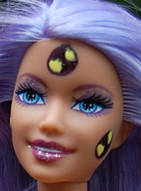 "That airhead couldn't count to 22 unless she was naked!" quipped one long time friend of "Crash Test Barbie" "Shes an idiot!"
Large crowds are expected for Sundays event.